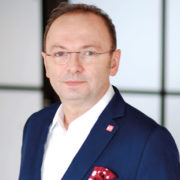 I am the president of the National Council of Physiotherapists and I hope that as a human I have defined this function, and not otherwise. In the jubilee issue of "The Voice of Physiotherapist", which you now hold in your hands I allowed myself to share a little of my private life. I wanted you to see me as a human, collegue, friend, co-worker. The sum of my previous private and professional experiences has defined my presidency.
This first term of office was exceptional. Thank you to everyone who trusted me from the beginning of this journey. It is a real honor for me, but also a huge obligation. I had no examples, I had to work out the formula myself. I followed the example in other professions of public trust. Unfortunately each profession has its own specificity and not all practices could be duplicated. I became engaged in my new role and I can say that during this time I have submitted my professional life to it, and to a large extent also private life. I decided that the situation required it. I can't be involved halfway.
My greatest success is strengthening our occupational independence. Despite introducing our autonomy by the Act on the profession, it still has to be enforced in thousands of legal acts. Along with the sanctioning of independence, came the increase in prestige. We are treated as partners, not subcontractors or assistants. I am also glad that patients more and more often consciously direct their steps to us, and not to other medical practitioners.
The biggest failure is the lack of full professional independence in Sanatoriums. This area requires a thorough change and a new approach to balneology. I also consider not enough changes in salaries of physiotherapists in public health a failure. Since I know how much we are skilled, I am aware of how much we should earn. I have been an employee of the public health care system for many years myself. It hurts me that the most talented and youngest physiotherapists are running away from it. However, I am convinced that the changes that occurred in the legal system strengthened our position to increase earnings.
What's next? I've always believed that whoever stands still, steps back, so we can't slow down now. Further elements of the rehabilitation reform must be introduced. New competencies will be crucial here. In physiotherapy in the public health care system, I focus on a real estimate of individual therapy time. I do not see any turning back from development and in my opinion, its pace is not slowing down either.
I would like to pay my tribute to the community for having this opportunity to create the Chamber together.
Daj znać, co sądzisz o tym artykule :)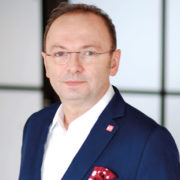 dr hab. n. med. Maciej Krawczyk
Prezes Krajowej Rady Fizjoterapeutów - mgr rehabilitacji ruchowej, doktor nauk o kulturze fizycznej w dziedzinie rehabilitacji, doktor habilitowany nauk medycznych, specjalista fizjoterapii. Absolwent Wydziału Rehabilitacji Akademii Wychowania Fizycznego Józefa Piłsudskiego.